When a child is diagnosed with autism spectrum disorder (ASD), many parents feel in denial and anxious.  I've been there.
My second born was diagnosed with mild but high functioning autism when he was five.  Upon the diagnosis,  I felt overwhelmed,but at the same time, relieved.  Why? Because finally, it answered our questions!  I and my husband  were confused over our son's strange behavior.   It was not an easy road.
We sought help.  One of the best decisions we have made was to enroll him in an inclusive-play based school.  The school played a big part in educating us, moms and dads.  It's good to meet  other parents with the same journey as ours and together we tried new and time tested ways to raise children with special needs.
A Daily Routine
We have our own unique challenges because each child is different.  One of the basics of parenting a child, whether with autism or not,is to create a daily routine.  For children with autism, however, it is especially important.  They must have a concrete day-to-day routine; from the moment they wake up to the time they hit the bed at night.
In every child's daily routine, one of the non negotiable activities is — play time!  Play helps in the development of their fine and gross motor skills, social and communication skills, as well as thinking and problem solving skills.  Besides, it's F-U-N!
Have you noticed that children with autism play differently than 'regular kids'?   They actually want to play alone!  An expert  said  that they are especially drawn to activities that have strong sensory feedback, cause-and-effect results, and repetitive motions.   It's tough on them to play with other kids because a child with autism :
lack imitation skills
has difficulty following social rules (like taking turns)
has a hard time playing pretend games
lack social communication skills (especially for the nonverbal ones)
has difficulty with joint attention or work in a group
mostly engage in repetitive play activities
These limitations restrict their  play activities but it doesn't mean they cannot learn them.
Since they tend to play the same game over and over again (repetitive motions), the challenge for parents with an autistic child is to maximize his playtime to broaden their learning.What will you do if your child just want to spin the wheels of his car over and over again, for hours?
Play Ideas For Children with ASD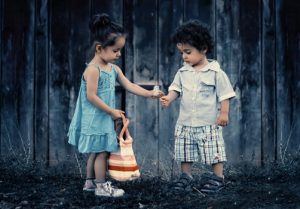 Here are some play ideas that you can introduce to your child – little by little, one activity at a time.  The plus side of these is most of these activities can be done with little to no supervision so parents can also have a little "me time".
Constructive Play
Jigsaw Puzzles –They love jigsaw puzzles and solve a problem piece by piece! Well, for most of them,  putting things together with their hands is a rewarding experience.  Allow them to sit in a quiet space away from too much distraction.  Introduce puzzles of different kinds – from simple to complex.  It actually improves their attention span, fine motor skills, sorting and problem-solving skills.
Lego Building Toys– Lego toys offer a simple,and predictable activity that they can do again and again. It will encourage natural creativity, develop fine motor, spatial and analytical skills.
Wooden Building Blocks –I love watching my son create different things with these blocks. It also allows him to use his imagination as he tries to make different shapes. Encourage and reward the child when he creates something new!
Sensory Play
Children with ASD often have sensory issues – either their senses for smelling, touching, tasting, hearing and sight are too sensitive or under stimulated.   These sensory plays are designed to challenge or stimulate their senses.
Playdough or Sculpting Clay – This is great sensory experience.Allow them to squish, shape, and sculpt the play-dough or clay. Give them cookie cutters, animal plastic molds, etc.  If your child is up to it,  you can use air-dry sculpting clay. Allow their sculpture to dry, and then paint it the following day.
Slime – It has a smooth, and soothing texture that they love.  It can be store bought or home-made.
Sensory Bin –In a large plastic tub, fill it with materials and objects that could stimulate the senses. It could almost just anything that you can find in your house : rice, cottons, rubber bands and simply any toys of different textures, sizes and colors.
Sandbox or Activity Table –Some children with autism do not like the feel of sand but sandboxes and sand activity tables provide the perfect opportunity for sensory play.   Provide several different toys such as buckets and shovels, toy cars and trucks, sifts, and other toys specifically designed for sand play.
There are many things that they could do with sand box:
Drawing and writing
Treasure hunt
Castle building
Mazes and more!
Water Play
Does your child have a natural attraction to water?  Mine does!  It offers them sensory stimulation as they experiment with the way the water moves, feels, and sounds and even smells.  These activities can be done in your backyard or in a space where you can monitor their activities in a hearing distance.  Just provide a  bucket full of water and there are many fun things that he can do!
Play with buckets – Offer them different containers and objects to experiment with every day, to encourage their curiosity, growth, and exploration.
Play with squirt guns
Play in the sprinklers
Play outside on a rainy day
Play with sponges
Play with soap and bubbles
Play with ice cubes
Play with toothbrush, soap and toys. Let him wash, brush his toys with his toothbrush.
Music, Arts and Crafts
I invest on good quality papers by the bundle and a ready set of colored pencils, crayons and other art materials.
DIY bracelets. Some children like to work with beads and the repetitive motion of putting beads on the thread.
Depending on their age and ability, you can ask them to make a collage from cutting pictures from old magazines and pasting them in a cardboard.
Play with musical instruments
Read interactive and pop up books
Nature Play
Playing outdoors specifically in nature promotes communication, emotion, cognition, interaction, sensory integration and physical activity.  All are extremely beneficial for children with autism. But for these activities, your little one needs supervision.  Although they can do these things by themselves,  they need you to direct, engage and provide feedback.
Here are some ideas for your nature walk activities. Ask them questions to encourage communication:
Do a scavenger hunt. There are so many things to pick up. Collect pebbles, pine cones, leaves, feathers, acorns, twigs etc. along the way. What is your most favorite from your collection?
Do bark rubbings or leaf rubbings.See the different patterns?
Hug a tree. Find a tree and give it a hug! What does it feel like?
I spy: animal watching and tracking animal footprints.  How many different animals can you see?
Natural music. How many sounds can you hear? Can you identify them?
Compare and contrast. Can you identify how each one is different from another? How they are the same?
Other Outdoor Activities
Chalk on the Pavement – Give your child a chalk and let him draw on the sidewalk or driveway. This can be yet another way to express creativity.
Go to the Playground – Children of all ages love the playground. Just stay close so you can monitor if your child might need rest from sensory input.  You can take them at a time when there are fewer people at the playground to minimize the amount of stimulation they receive.
Some Important Notes
Outdoors
Outdoor environments won't always be a great choice for every child. If your child has sensory issues, they may find the sights, sounds, and sensations of the outdoors to be overwhelming. Be sensitive to your child's needs.  If your child is exceptionally anxious when outdoors, perhaps keep any outdoor playtime confined to the back porch.
Home
Even at home, loud noises, bright lights, and busy rooms can trigger a meltdown or a tantrum. Have a 'calming room'  that is away from the usual hustle of a household.
Timing
Timing also plays an important role in the success of these activities. Know when your child is most likely to have the energy to focus and engage so you could incorporate suitable play time in their daily routine.
Routine
Create a fun and easy-to-remember weekly routine for your child, and have some 'Me Time' scheduled every day. Every Monday can be "Make-Something Monday," and their independent play time can be building with Legos and blocks. Wednesdays can be 'Water Wednesdays'. With a clear, fun schedule they can remember, your child will look forward to their independent play every day, and you will look forward to having a little "Me Time" of your own.
Conclusion
Not every activity mentioned above is going to be an appropriate choice for every child. As a parent, you know better than anyone what your child can handle. If you believe an activity will push them too far or stimulate them too much, then adapt the activity to suit their needs.
But be sure to find some form of independent play that your child can enjoy each day. This type of play is vital for fostering their confidence and sense of self.  It allows them to become more independent from you.
And, of course, it is important for you to have a little time each day to do your own thing or to rest. A relatively free time where you are not constantly needed can be therapeutic. So, try some of the activities above, sip your coffee and watch your child learn, bloom, and grow before your very eyes.